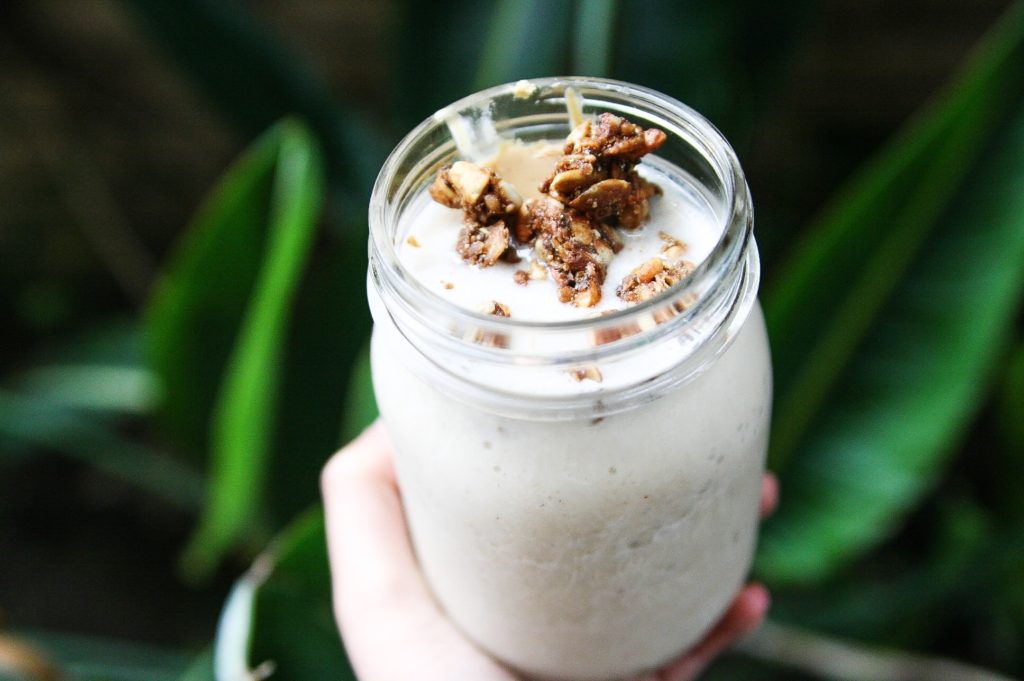 I just discovered Tocos a few weeks ago (thanks to Sun Potion!) and I'm so so glad that I did! I've been putting it in everything lately, from my matcha lattes to my famous breakfast smoothie bowls.
So what exactly is Tocos? It is rice bran solubles, which come directly from the bran of organically grown brown rice. It is well-known as being a super rich source of fat-soluble natural vitamin E and is widely recognized as being exceptional for connective tissue and skin. It is also important for healthy muscle function. Tocos is a high source of bioavailable vitamin E, which may promote healthy skin and connective tissues, and may help the removal of toxins from the body.
Tocos naturally has a creamy, vanilla flavor when added to drinks which is why I love adding it to my matcha lattes, coffee, or smoothies. It gives my drinks  a rich, creamy texture and a rich vanilla taste at the same time!
I decided to experiment this morning and create a healthy version of a vanilla frappucino (since we all know the real ones from Starbucks are so sweet and artificial it is almost deadly!) I LOVE the way it came out and hope you guys love it just as much as I do:)
Rachel's Vanilla Frappucino
1 banana
1 cup cashew milk
1-2 heaping tbsp tocos
1 tsp collagen
cinnamon
1/2 cup crushed ice
Blend everything together and drink as is or top with a tbsp of creamy peanut butter and some granola (I used Purely Elizabeth's banana nut granola)
xx
Rachel
(P.S. this post is NOT sponsored. I truly love Tocos & Sun Potion in general. All of the benefits of Tocos can be found on their website at www.sunpotion.com)