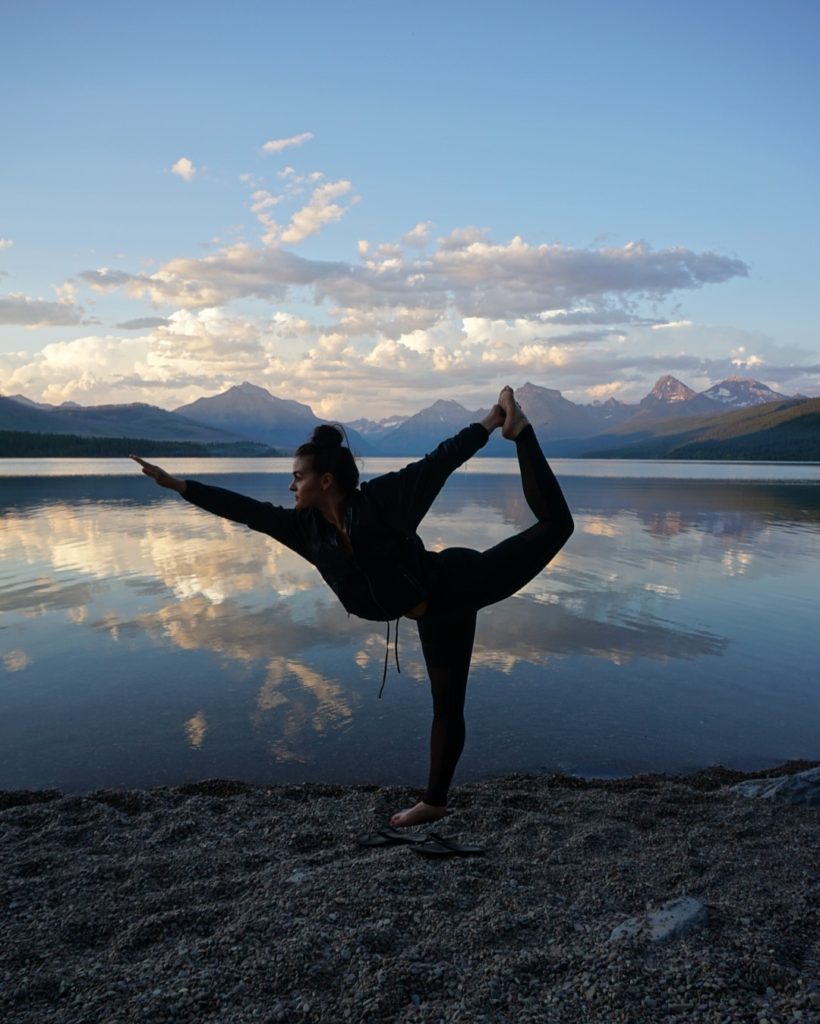 My name is Lauren Waskewicz, founder and CEO of Be YOU Be Wholesome. I am a health, fitness and travel enthusiast who specializes in creating meal plans that fit individual lifestyles and goals. In my spare time you can find me coming up with new recipes in the kitchen, hiking with friends or planning my next big adventure with my husband! Over the years I have learned that quality is more important than quantity. Stop sweating the bullshit and live the life that makes you the happiest.
1) What made you want to study nutrition?
 Working out and eating healthy are true passions of mine. Through my personal health journey, I found that nothing compares to following a wholesome meal plan.  My experience with meal planning began when friends and family asked me to help improve their eating habits.  While working my desk job, I continued to read health books and make meal plans for friends. Being a part of helping others live a healthy life made me realize this was what I was meant to do! To make my dream a reality, I decided to pursue my education in Holistic Nutrition and enrolled at Bauman College.
2) What do you eat on a daily basis (breakfast, lunch, dinner and snacks)?
 I am a routine person. I always wake up and start my day with warm lemon water. It helps get things moving and I just feel off when I don't do it.
Breakfast: I have a few I like to interchange:
2 whole eggs, fried with 2 scrambled egg whites and a side of avocado
Green protein smoothie
Overnight oats with berries, flax/chia seed mix and collagen peptides
A.M. Snack (only if I am hungry): Green Juice with nuts/seeds or a big juicy grapefruit with cinnamon sprinkled on top.
Lunch: White fish or salmon with asparagus and ½ baked sweet potato or a Mexican quinoa burrito bowl
PM Snack (Only if I am hungry): 2 Tablespoons of hummus with veggies and a large iced green tea or handful of raw walnuts with a green apple with cinnamon sprinkled on top.
Dinner: I always make dinner my lightest meal of the day. I usually have wild caught fish (black cod or salmon) with asparagus (or any type of steamed veggie) and ½ sweet potato or quinoa with sautéed kale in coconut oil and coconut aminos.
3) What's your philosophy on food and health?
 My philosophy on food and heath is that there is not a "ONE SIZE FITS ALL" approach.
People should stop comparing themselves to others. Everyone has different goals and bodies. I design meal plans for individuals who are trying to better themselves from the inside out. When I design a meal plan it is not the "One Size Fits All" approach.  Everyone has different likes/dislikes, allergies and goals. With that being said, find a workout you enjoy and find a meal plan that works best with your goals, schedule and taste buds. Just be YOU because YOU are awesome!
4) What's your favorite workout?
 I like to switch things up but I also love a routine. I love workouts that build nice lean muscle. My husband and I set up a workout room in our home where I do Tracy Anderson, KP Dance Body, Body By Simone and HIIT Workouts. I love being outside so when it comes to cardio I run, go on powerwalks and hike. I always do Yoga once or twice a week, especially on rest days.
5) What food can you not live without?
 I cannot live without FISH! Salmon is probably my favorite food. Sushi is my favorite dining out meal of all times.
6) What is your dream career in the nutrition world?
My dream career in the nutrition world to continue to grow with Be YOU Be Wholesome. I want to help individuals, families and couples become the best version of themselves by living a wholesome lifestyle. I want to teach people that eating healthy doesn't have to be boring or strict. I want to show them that it can be tasteful and have many benefits for the mind and body.
Shrimp & Asparagus on Top of Zoodles (Makes 4 Servings)
by Lauren Waskewicz
Ingredients
2 tablespoons olive oil
1 lb. wild caught shrimp, peeled and deveined
1 tablespoon minced garlic
1/4 teaspoon crushed red pepper flakes
1/4 cup white wine
2 tablespoons freshly squeezed lemon juice
4 medium zucchini, cut into noodles (Use a Spiralizer)
5 asparagus, chopped
Chopped parsley, for garnish
Directions
Place a large sauté pan over medium-low heat.  Add olive oil and heat for 1 minute.  Add garlic and crushed red pepper flakes and cook for 1 minute, stirring constantly.  Add asparagus and sauté for 8 minutes.
Add shrimp to the pan and cook them, stirring as needed, until they are cooked throughout (no pink inside).  Season the shrimp with salt and pepper and then using a spoon or fork, transfer them to a bowl, leaving any liquid in the pan.
Increase the heat to medium.  Add white wine and lemon juice to the pan. Using a wooden spoon, occasionally stir the wine and lemon juice for 2 minutes.  Add zucchini noodles and cook, stirring occasionally, for 2 minutes.  Return the shrimp to the pan and toss to combine.  Season with salt and pepper and top with parsley.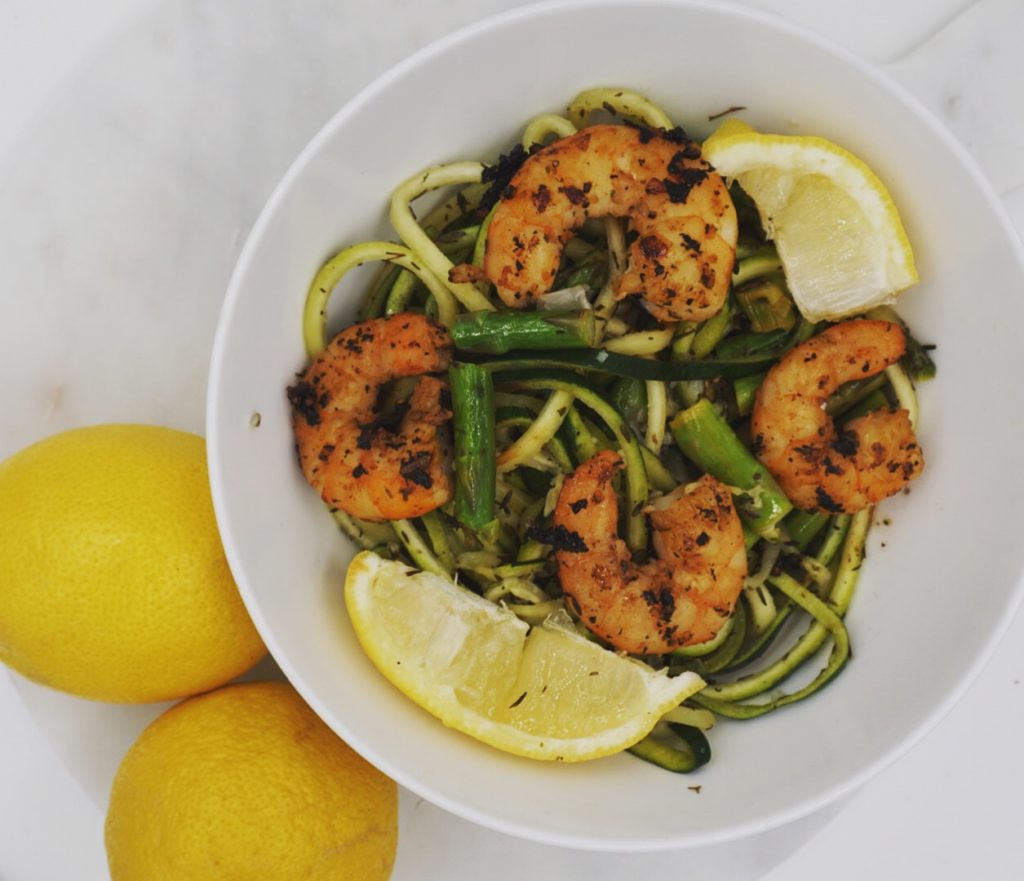 Check out Lauren on:
Instagram- @beyoubewholesome
Website- www.beyoubewholesome.com
Snapchat-lwaskewicz
xx
Rachel