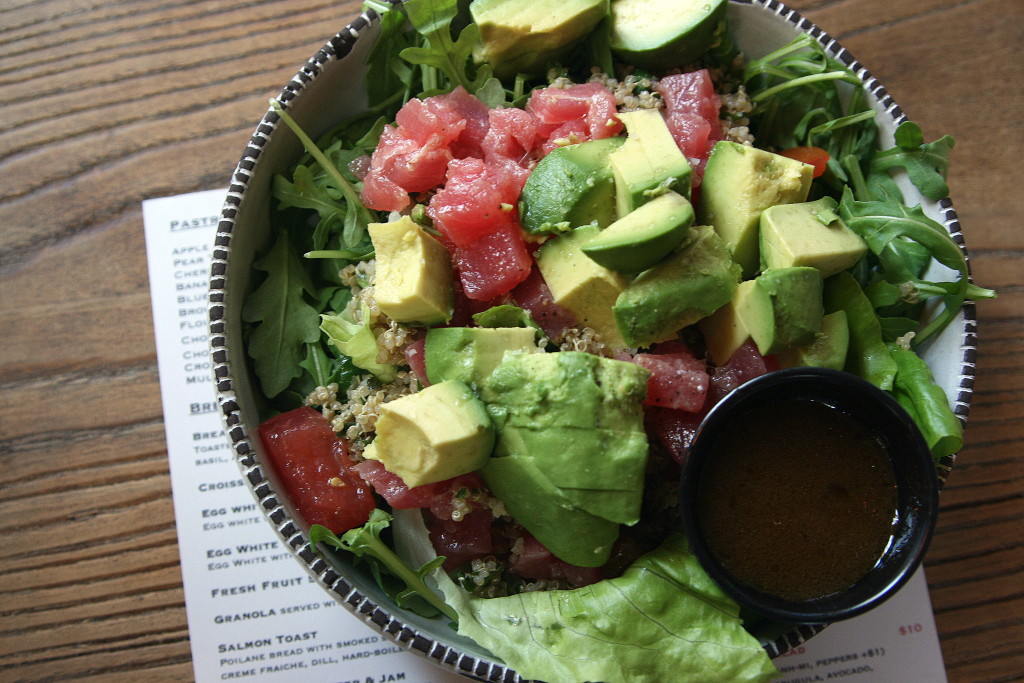 Zinque on melrose in LA is definitely a hot spot; it's always crowded with trendy customers and looks like the place to be on a Saturday or Sunday afternoon. Every time I would walk or drive by it, I was super curious to go in and order something and I'm so glad I finally did!
Zinque is a great restaurant for breakfast/brunch/lunch with a small menu of beverages, breakfast items, pastries, salads, toasts, and bowls. Although the menu is small, each option looked absolutely delicious to me!
I ordered a giant salad bowl with mixed lettuces, quinoa, tomato, ahi tuna, avocado, and a balsamic vinegar dressing. It was a tad bit overpriced ($20) but it was delicious and could definitely feed two. All of the ingredients were also super fresh as well. What I liked most about the salad was how much fresh avocado they put in it- I could have sworn there was a whole avocado in there! It's super rare to ask for an order of avocado at a restaurant and receive that much.
My friends ordered iced coffees and a warm chocolate lava cake with vanilla ice cream which they said was delicious (it looked great!) but was overpriced as well ($10 just for the tiny cake!)
The service was terrible and no one came to check on us, but they did apologize and gave me a free iced coffee to make up for it.
Even though I really enjoyed my salad bowl, my favorite part about Zinque was the seating and overall ambiance. The set-up is lovely and it's a great place to just hang out with friends or your laptop; they even have cables under every in-door table for you to charge your phone or laptop which I thought was super cool.
Overall, Zinque is super over priced and the service isn't great, but it's a fun place to be and the food is fresh and delicious! I definitely recommend going there at least once for brunch or lunch one weekend to check it out
xxx
Rachel