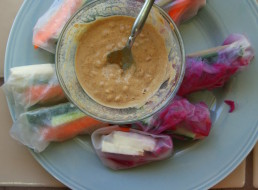 Posted on October 3, 2015 by RachelKatz in Blog, Mains, Recipes

One of my absolute favorite easy, versatile meals to make, these veggie spring rolls are a must! If you are a sushi person than you will LOVE these.They are the perfect lunch, dinner or snack and are a perfect on the go option (I love taking them for school lunches or dinners), plus they are […]

No Comments. Continue Reading...