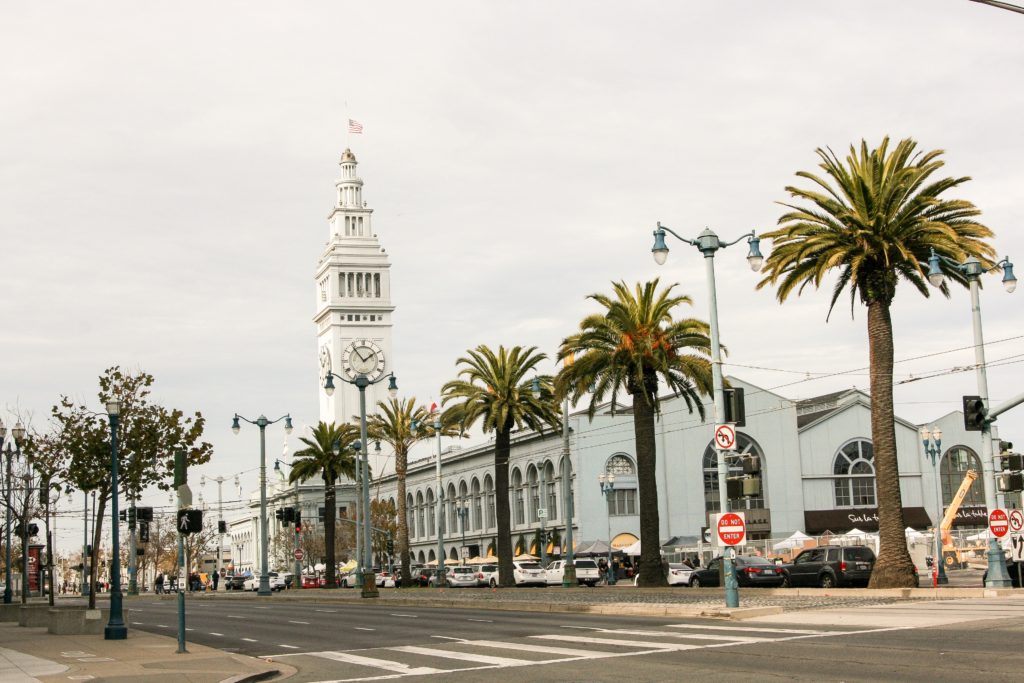 I visit San Francisco almost every year, and I always find new eateries to fall in love with! I thought I'd share with you all my favorites from this years trip so you can visit them if you ever get the chance to check out one of my favorite cities ever:) xx
1. Bouli Bar in the Ferry Building Marketplace- I got the mediterranean salad (with little gem lettuce, Moroccan mint, bulgur, farro, pomegranate, ricotta cheese, sunflower seeds, zaatar and a light olive oil and balsamic dressing) and the most hearty, delicious minestrone soup! I also got a glass of rose that was one of the best I've ever tried:)
2. Ideale- authentic Italian food. I ordered the Insalata Mista which was way better than the typical salads I've tried at several Italian restaurants and even in Italy! I loved the touch of shaved fennel and olives. I also ordered the "paccheri al pesto di spinaci" which is a wide, tube pasta served in a spinach pesto sauce with a touch of light cream sauce. I am NOT exaggerating when I say that this was the best pasta dish I've ever tried… besides one cacio e pepe dish I had in Rome- and that's saying a LOT!
3. Tartine Manufactory- this place was overall drool-worthy. I could come here and sip on their rose lemonade kombucha & have some of their fresh sourdough bread with butter and olive oil every day and be happy as could be. Their bone broth w/ turmeric juice and carrot persimmon salad are both to die for as well.
4.Sababa- quick and healthy Israeli Food. They have yummy bowls, sandwiches in pita bread, and salad plates. I got the grilled chicken with quinoa tabbouleh, cauliflower salad, israeli salad, hummus and tahini. Everything is so flavorful and fresh- the perfect healthy meal when you don't have the time to sit down in a full-on restaurant. I also STRONGLY recommend the pinot sage kombucha on tap.
5.Sears Fine Food- the line out the door speaks for itself. It really is the best breakfast place in all of San Francisco! I got a veggie scramble with avo, hashbrowns, and a big bowl of fresh berries. Both the eggs and potatoes weren't greasy or heavy- they were exactly as if I'd made them at home myself. I've also never been to a restaurant that gives SUCH a big bowl of FRESH berries- 11$ but worth every penny;) They are also known for their pancakes and french toast- mmm
6. Rutherford Grill- this restaurant isn't in San Francisco (it's about an hour away/ hour and a half away) but I still wanted to share it with you all! I came here after my spa day up in Calistoga (which I highly recommend) and it is the perfect place to eat on the way back to San Fran. It's owned by the Hillstone group (they have many restaurants around LA) and their menu is perf. I got the rotisserie chicken (SO moist and flavorful- doesn't even need any sauce or anything) with a side of fries and grilled broccollini. They also have amazing salads, a veggie burger, and a grilled salmon dish which I would totally order as well. Their wine list is great too!
7. Urban Remedy- This is a chain around the bay area that serves ready-to-eat organic meals (including a TON of vegan meals). I went to the location at the ferry building twice and got so many yummy treats. I recommend EVERYTHING that I got- a juice with acai powder, cayenne, lemon and stevia (I forgot the exact name of it), their vegan Cesar salad and their vegan tiramisu (made with dates, espresso, cacao, almonds..can't even explain how good). Those are the only items I tried but honestly every single juice, salad, and desert they had looked amazing!
8. Green Heart Foods- This is another chain in San Francisco that caters to many different places, including Starbucks, that serves yummy organic, ready-to-eat meals. I tried both their chia pudding and acai pudding in Starbucks- the perfect quick breakfast on-the-go! SO delicious too.
Hope this list is helpful- comment below if you have any other must-try restaurants in San Francisco and I'll check it out next time I'm up there!
xx
Rachel