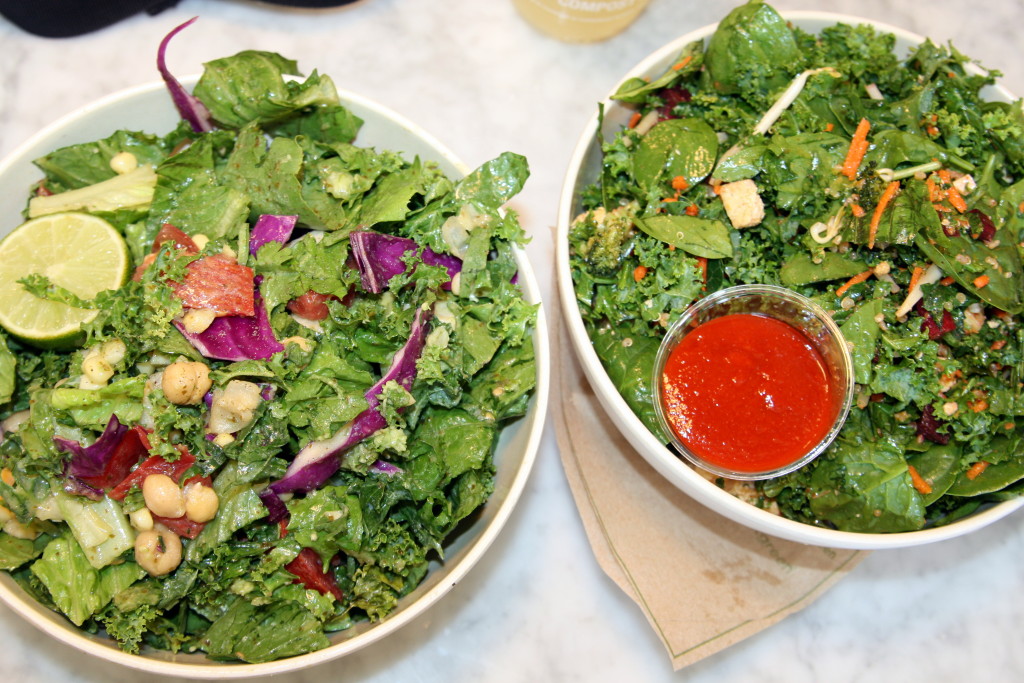 When SweetGreen opened here in LA, I was so curious to try it since I heard so many great things about it. Many Instagrammers stated that it was their favorite lunch place, and I too was hoping that it would become mine!
There are two SweetGreen locations here in LA, one of them being on West 3rd St in Los Angeles and the other on 4th Street in Santa Monica. I decided to check out the one in Santa Monica with my friend Taylor, since it is much closer to where we live than the latter.
SweetGreen basically serves huge salad bowls made with 100% real ingredients that come from local farms. They have a huge chalkboard stating where all of their produce comes from (aka which veggie came from which farm), and it is a concept that I absolutely love. At SweetGreen, you can be sure you are eating REAL, organic, nourishing foods.
There are tons of bowls to choose from on their menu, but you can also feel free to make your own. I decided to make my own using kale, romaine lettuce, purple cabbage, red bell pepper, garbanzo beans, tomatoes, avocado, corn, and a lime cilantro jalapeno vinaigrette. I also asked for some lime and sriracha since I like my food spicy.
My bowl came up to be 10$, which isn't bad at all considering the size of the salad and the freshness of the ingredients. I also asked for a drink cup, but the guy at the cashier was nice enough to give it to me for free!
Overall, I love the whole concept of SweetGreen and the fact that it's practically the only place in LA that I can get a huge salad bowl with fresh, healthy ingredients that I get to pick out myself. For lunch I almost always have a big green salad with a protein and healthy fat, and it's nice to know that when I don't have the time or energy to make it myself I can just come here. It's also super affordable and reasonable compared to other restaurants in LA. My only disappointment was that the dressing was super bland as well as their drinks. I tried almost five different combinations of their ice teas, lemonades, and watermelon juice and all of them were super bland that I ended up resorting to a cup of water.
Overall, I would definitely come back to SweetGreen since I am a huge fan of fresh, salad bowls. However, since I make a salad bowl at home almost every day, and since it's super easy to make, I'd much rather make my own at home. Since I only go out to eat about twice a week, I like going to places where I can order something that is more interesting and hard to make at home. With that being said, on the days that I simply don't have the time or energy to make my own salad bowl, SweetGreen would definitely be my go to lunch spot!
xxx
Rachel