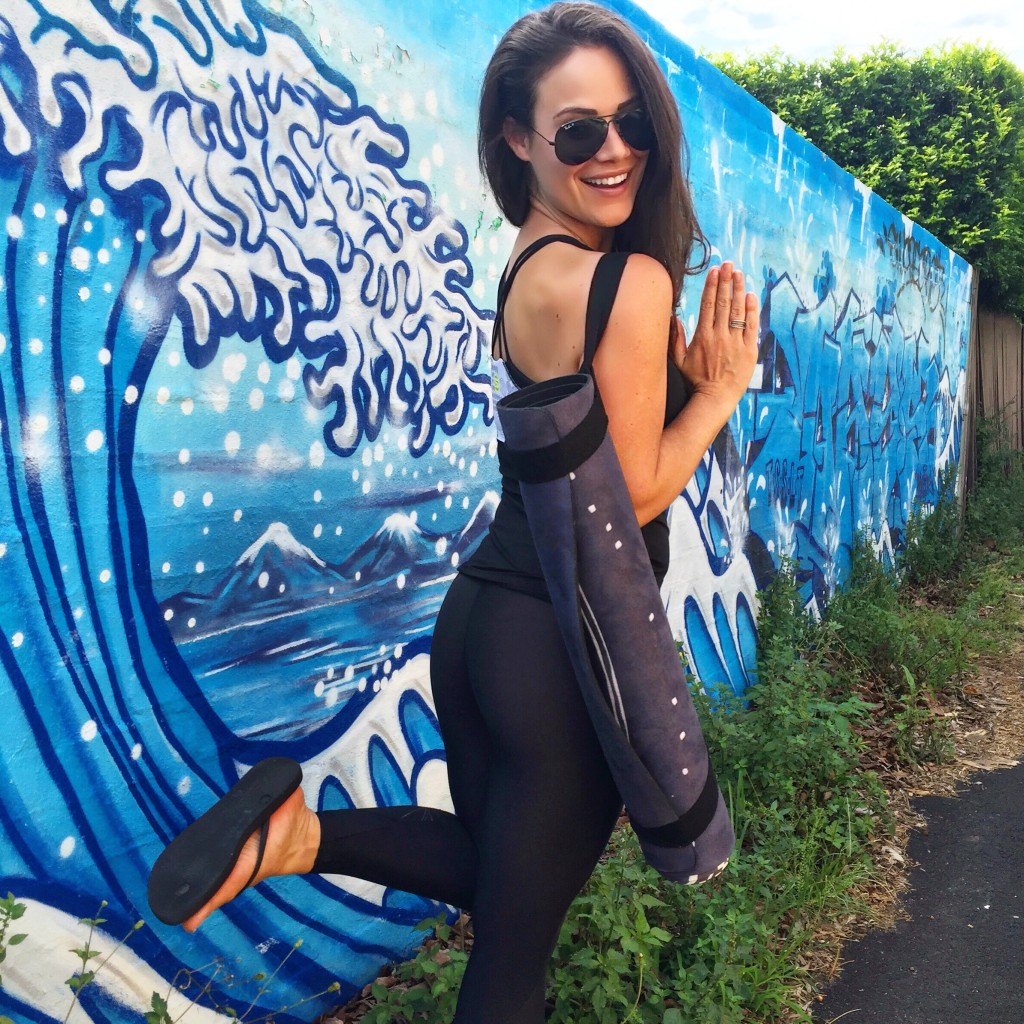 Sami is a lawyer turned health coach, yoga teacher and whole foods enthusiast, currently in her third year of Nutritional Medicine in Sydney Australia. Her own health complications prompted her to make positive life changes, revitalizing her health and leading to a drastic career change. Sami is committed to empowering people to love clean cooking and make lifestyle decisions, with health in mind. In her spare time you will find her browsing health-food aisles, getting messy in the kitchen, spooning her dogs, and spending time with loved ones over frothy almond milk chai tea's. She believes that the best recipe for optimal wellbeing is proper nourishment, relaxation, movement you love, fresh air and self-awareness.
What made you want to study nutrition?
I had just finished a law degree and was about to enter a career that was no longer "me". Having gone through my own health roller-coaster, I had made some drastic lifestyle changes that revitalized my health and ignited my passion for wellness. I set out to complete my yoga teacher training, as yoga was a major component to my healing. During my training we were encouraged to do a lot of self-reflection. It became very clear to me that I wanted to learn more about the body so that I could help others find vibrance and balance in their lives and get people excited about healthy living! I enrolled in Nutritional Medicine and love everything about what I study!
What do you eat on a daily basis (breakfast, lunch, dinner and snacks)?
Breakfast is a berry smoothie with vegan protein, coconut water, greens and 1-2 tsp of some kind of superfood – glutamine, maca, bee pollen, cacao, hemp seeds etc. depends on what's going on in my body. At the moment I have been topping it with a few tablespoons of buckwheat clusters and some cacao nibs for crunch!
Lunch will be a bunch of raw and roast vegetables with a quality grain (quinoa, brown rice, millet) and usually lentils. I will also throw ¼ avocado in the mix because I think all salad's need avo! If I have sprouted legumes or fermented vegetables on hand I like to include them. And of course, a homemade dressing with lots of lemon, apple cider vinegar, spices, filtered water, a little olive oil and dijon mustard.
I keep dinner quite warming, even in the summer months. I love to have a side salad of raw greens but the main will generally be cooked: capsicums stuffed with legumes, pesto and teff, a tempeh stir-fry or curry with cauliflower rice, or a konjac/zucchini noodle pasta dish.
In between meals I drink lots of herbal tea (I love a chai tea with frothy almond milk and stevia!), or I throw some grapefruit, mint, ginger and vanilla stevia drops in some icy water. If I feel the need to snack I love wrapping nori sheets with veggies and hummus, crunching on a carrot with some almonds, or enjoying 2 homemade bliss balls. If it's a sweet attack, i'll stuff two dates with some brazil nuts!
What's your philosophy on food and health?
My food philosophy is to eat plant-based as often as possible, stay away from anything in a packet with more than a few ingredients and avoid refined sugar. Self-love and balance are at the core of my health philosophy. I believe that making decisions from a position of love can guide us to make the healthiest choices – those concerning food, movement, rest, relationships etc. Choose to eat well or exercise often because you love yourself enough to take care of your body, not to fit a dress or to fit in. Self-awareness is essential, when we are in tune with ourselves we can help ourselves.
 What's your favorite workout?
Yoga – you can't beat the invigorating feeling after a power/hot yoga class or the inspiration and calm you get from a slower more restorative practice. The options are numerous and the benefits are endless! If I am wanting something different, I like to get outdoors and enjoy a quick and effective soft sand run for a few kms.
 What food can you not live without?
Avocados!! I absolutely love them in everything from smoothies and salads to healthy desserts (chocolate mousse, yum!).
Almond Pulp Brownies by Sami Bloom
 Vegan | Gluten-Free | Sugar-Free | Dairy-Free | Grain-Free
 INGREDIENTS
 Serves: 12 brownies
3/4 cup almond pulp (left over from almond milk using 1 cup soaked almonds)
1 cup sweet potato, baked
1/3 cup teff flour (or buckwheat flour)
1/4 cup raw cacao
3 tbsp xylitol
3 tbsp coconut oil, melted
2-3 tbsp filtered water
1/2 tsp vanilla extract
pinch sea salt
INSTRUCTIONS
Combine all ingredients in a food processor, adding the water last.
Add water 1 tbsp at a time, and stop when the batter resembles a very thick smoothie/mousse. (Note: how much water you need depends on the dampness of your pulp).
Preheat the oven to 350 F.
Line a small baking tray with non-stick paper and spoon the mixture out from your processor using a spatula.
Pat it down to a firm, smooth block with no holes.
Place in the oven and bake for 35-40 minutes.
Remove from oven and allow to stand for 20 minutes or longer, until cooled. This allows it to firm and stick together.
Slice it up and serve! Or store in an airtight container for the week.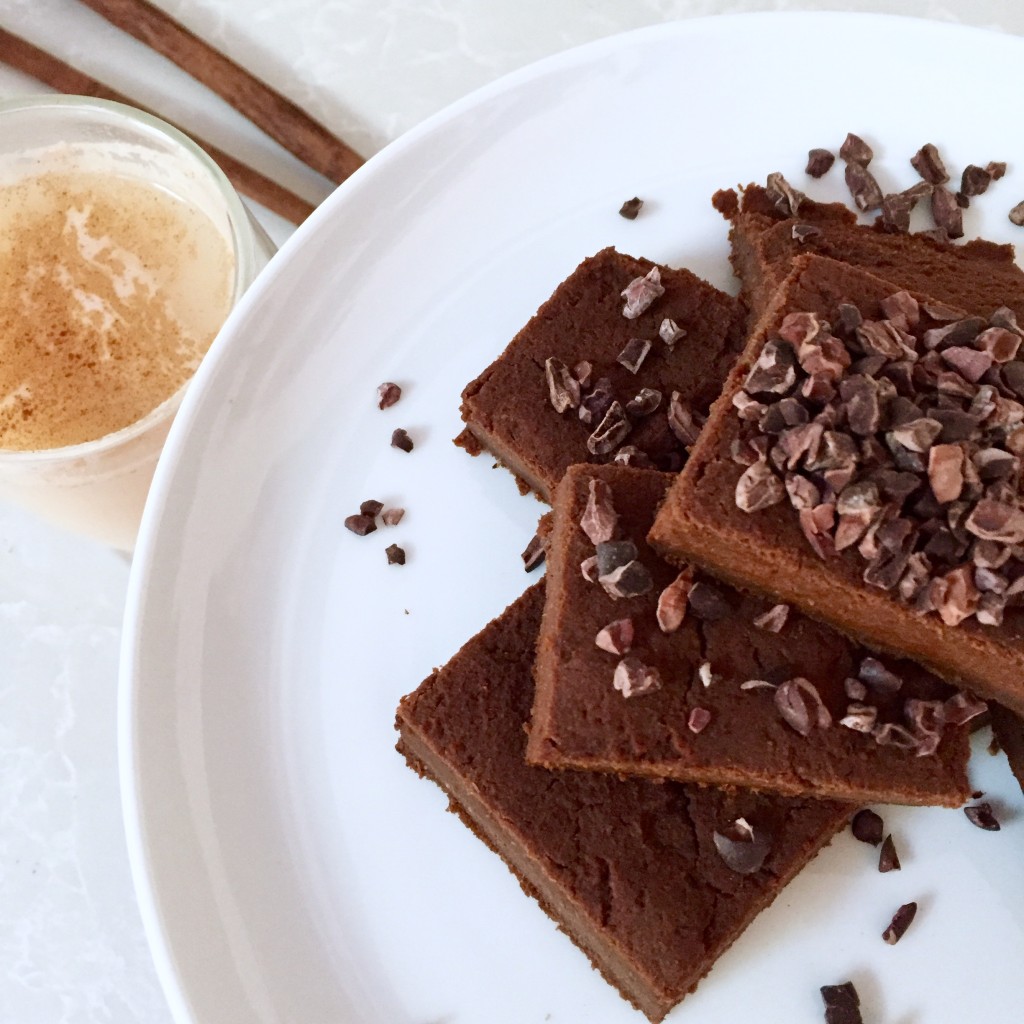 Follow Sami on Instagram @samibloom
Facebook: /SamiBloomHealth
Snapchat: SamiBloom
Check out her blog here!
xx
Rachel