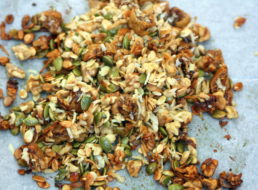 Posted on April 27, 2016 by RachelKatz in Blog, Breakfast, Recipes, Snacks

I make a LOT of granola, but this is seriously the best granola I have ever made! It is perfect for those who need to stay away from grains but still want to enjoy some nice crunchy granola on top of their yogurt or smoothie bowl. This granola is super easy to make and super […]

No Comments. Continue Reading...