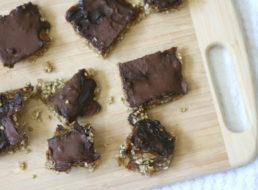 Posted on April 22, 2016 by RachelKatz in Blog, Dessert/Bakery, Recipes, Snacks

I experiment a ton in the kitchen, especially with raw desserts, and these are by far the best raw chocolate caramel slices I have ever made or tried! They take some effort to make but it is SO worth it. I love topping them with some coffee or vanilla ice cream for the perfect night […]

No Comments. Continue Reading...