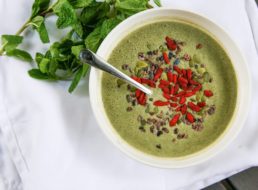 Posted on March 18, 2017 by RachelKatz in Blog, Breakfast, Dessert/Bakery, Recipes

This bowl literally tastes like mint chip ice cream- it's so good and SO healthy for you! See? You CAN still eat ice cream for breakfast on a healthy diet:) Enjoy xx Mint Chip Smoothie Bowl Recipe 1/2 frozen banana a handful of fresh mint leaves 1 tbsp cashew butter 1 tbsp green powder (spirulina […]

No Comments. Continue Reading...