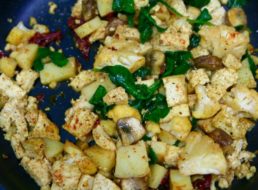 Posted on February 3, 2017 by RachelKatz in Blog, Mains, Recipes

I came up with this last Sunday night when I was starving and looking for something quick and easy to whip up for dinner! This literally takes less than 10 minutes to make and tastes fabulous- let me know what you think in the comments below:) One Pan Tofu Dinner (makes 2-3 servings) 1 pack […]

No Comments. Continue Reading...