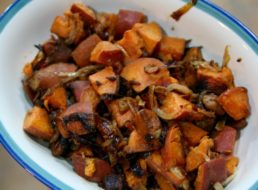 Posted on December 26, 2016 by RachelKatz in Blog, Recipes, Salads/Sides

This is by far my favorite sweet potato dish ever!! I know it will become yours as well too…enjoy xx Sautéed Sweet Potatoes with Pecans 3 Sweet Potatoes 1/2 white onion 4-5 Tbsp's coconut oil 1/4 cup raw pecans himalayan salt, black pepper, and garlic powder to taste Wrap the sweet potatoes in seran wrap and […]

No Comments. Continue Reading...