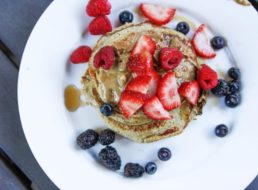 Posted on May 1, 2017 by RachelKatz in Blog, Breakfast, Recipes

Pancakes are my absolute fav meal for breakfast, and I have a ton of healthy pancake recipes, but most of them take forever to make and include flours from grains. I have nothing against healthy grains (like oats, spelt, and buckwheat) but lately I'm trying to reduce my intake since I personally feel better without […]

No Comments. Continue Reading...