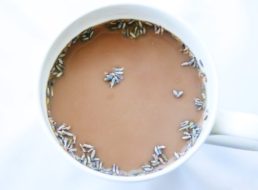 Posted on December 29, 2017 by RachelKatz in Beverages, Blog, Recipes

Lavender Hot Chocolate Recipe 1 heaping tbsp cacao powder 1 tsp stevia 1 tsp coconut nectar 1/2 cup hot water 1/2 cup warm non-dairy milk or organic whole milk 1 tbsp fresh lavender Mix the cacao powder, stevia, coconut nectar, and hot water together. Put the fresh lavender in a small tea steeper and steep […]

No Comments. Continue Reading...