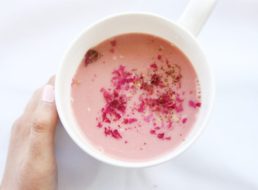 Posted on February 4, 2018 by RachelKatz in Beverages, Blog, Recipes

Caffeine-Free Rose Latte Recipe 1 cup coconut milk 1 drop rose oil/extract 1 tsp vanilla extract 1/2 tsp beet powder 1/2 tsp Sunpotion yin power (or any adaptogen of your choosing) 1 tsp maple syrup 1/2 tsp stevia (if you need it to be a tad more sweet!) Warm up coconut milk in a pan […]

No Comments. Continue Reading...