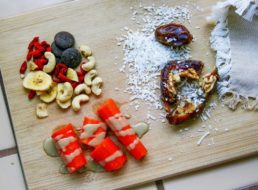 Posted on March 11, 2017 by RachelKatz in Blog, Nutrition&Wellness, Recipes, Snacks

I'm a huge fan of snacking in between meals- it helps stable blood sugar levels and ensures that you never arrive at your next meal starving or overeat. Sometimes, however, it can be confusing to know what exactly to snack on, so I've compiled this list of my ten favorites- enjoy! xx Raw veggies with […]

4 Comments. Continue Reading...